We make the custom engagement ring process as easy as 1-2-3
Selecting a diamond is a big part of the process, but don't worry, we'll help you make the right decision. You don't have to get overwhelmed with all the little details, that's our job.
We have a whole page dedicated to selecting a diamond if you'd like to read more about that, but here we are focused on custom designs.
It's important to pick the diamond out first because the the ring will be custom made based on the proportions of the center. The shape and size will affect the design, and before we get to that stage, it's good to know what we will be working with.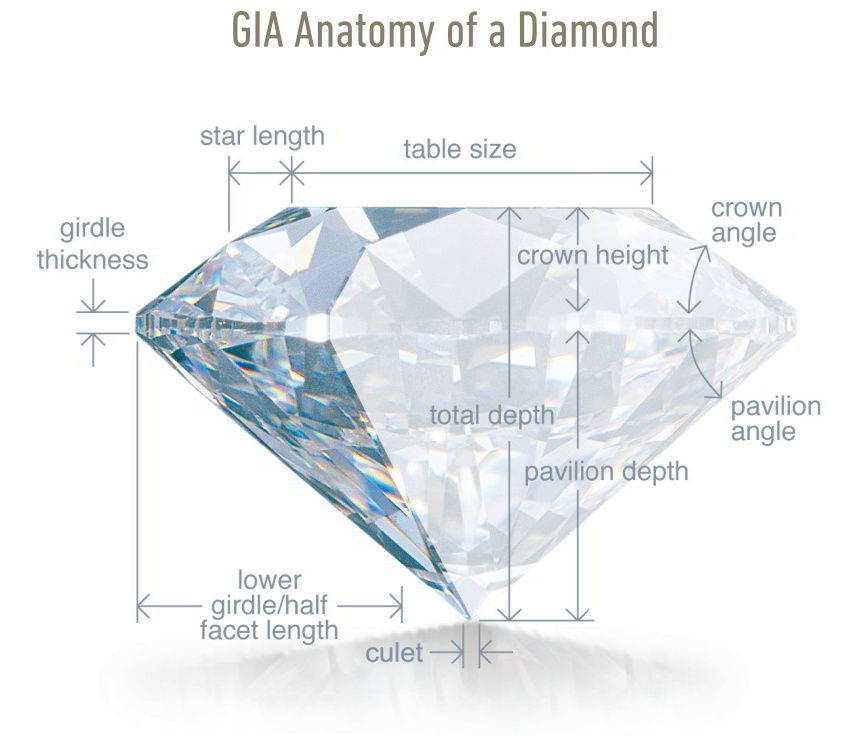 ---
2. Design the Engagement Ring
This sounds intimidating, but we can usually nail down a preliminary design in a meeting or two. After we have a good idea of what you're looking for, we'll create a CAD, which is pictured to the right.
The CAD images allow you to get a good idea of what everything is going to look like before we cast and finish the ring. Any requested modifications can be made, and the best part is, you can preview your ring from the comfort of your home.
The design process usually takes a few days to a week, but there is no rush. We want to make sure we get every detail right so your ring comes out perfect.
Clients often ask about the bulky prongs they see in CAD images. The ring is cast exactly as shown, because the diamond setter needs metal to work with to securely set all of the stones. Have no fear, once the diamonds are set and the ring polished to perfection, everything will look neat and tidy.
The CAD is used to 3D print a wax of your design, which is used in casting. If you'd like, you can view the wax and even try it on before we move forward.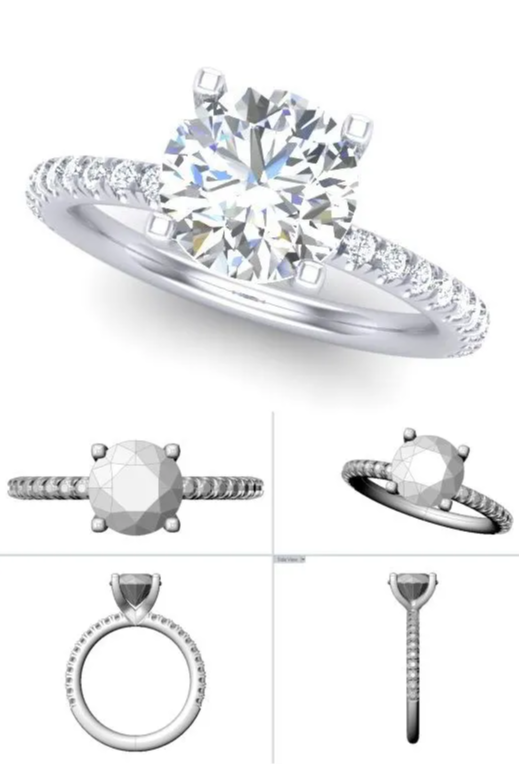 ---
3. Manufacture the Engagement Ring
The wax will be melted down to create a mold to cast the ring in your choice of metal. While this is happening, any additional diamonds required will be picked. The color will be matched to your center stone, and we always use high clarity VS quality stones.
Then, all of the diamonds will be set, and the ring will be polished to a mirror shine.
The last step we take is to have the ring independently appraised. Some jewelers appraise their own merchandise, but that doesn't sit right with us. The appraisal is included free of charge, and it will verify the ring and it's components and is necessary if you want to have it insured.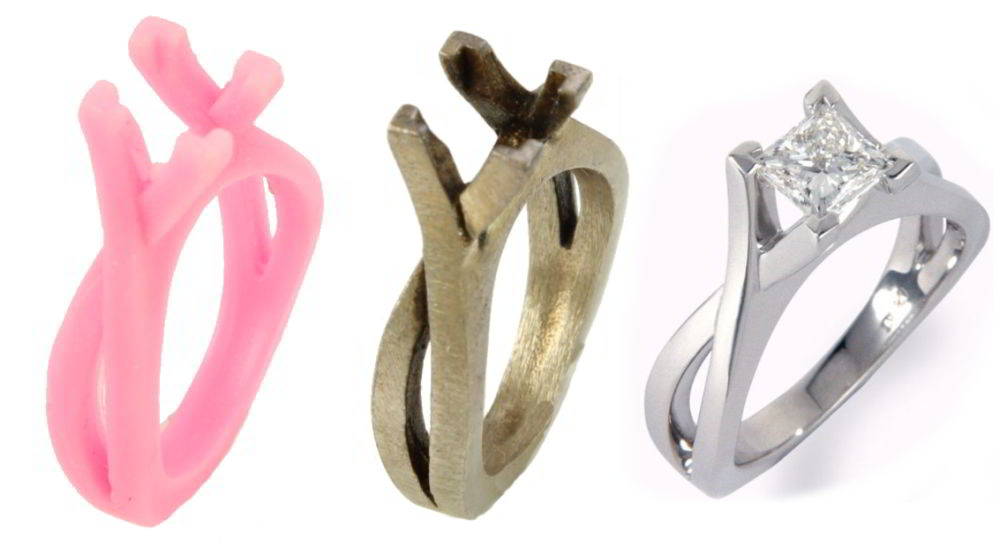 ---
Frequently Asked Questions about Engagement Rings
What are some tips for choosing an engagement ring?
Set a budget. It is important to know how much you can afford to spend on an engagement ring.
Consider your partner's style. What kind of jewelry do they like to wear?
Ask for help. Friends or family members may be able to direct you towards styles that might suit your beloved.
Do your research. Learn about the four Cs of diamonds and other factors that affect the value of an engagement ring.
Shop around. We stand by our products and prices and we aren't afraid of some competition.
How much should I spend on an engagement ring?
There is no one-size-fits-all answer to this question. The amount you spend on an engagement ring will depend on your budget, your personal style, and the value of the diamond.
There is the idea floating around that you should be spending three times your monthly salary on an engagement ring, but it's a myth. Whoever thought that up doesn't have your best interests in mind. You know your finances better than anyone, and it's your decision what you feel comfortable spending.
What are the different types of engagement ring settings?
There are many different types of engagement ring settings, each with its own unique look and feel. With custom design, we can create just about anything, so we would love to hear your ideas. For a start, some popular options include:
Solitaire: A solitaire ring features a single diamond set in a prong setting. This is the most traditional type of engagement ring setting.
Halo: A halo ring features a smaller diamond or diamonds surrounding the center diamond. This setting creates a halo of light around the center stone, making it appear larger.
Three-stone: A three-stone ring features three diamonds set in a row. This setting is often seen as a symbol of the past, present, and future.
Vintage: Vintage engagement rings are inspired by styles from the past. They often feature intricate details and unique designs.
How do I care for my engagement ring?
Although many choose not to, it can be a good idea to remove your engagement ring when you shower, exercise, or engage in any activity that has a chance of harming it. The biggest thing to look out for is the ring hitting a hard surface/edge, which can knock stones out or cause other damage.
Make sure you have a safe and secure place to store the ring when you're not wearing it. The ring box we provide is a great option.
For maintentance, you can clean the ring yourself with a bit of soap, water, and a soft bristle brush/toothbrush. Letting it soak a bit can help soften up any dirt before brushing it clean and rinsing. Every 1-2 years, bringing it in for a professional cleaning & polishing will ensure that it looks it's best.
Where should I buy an engagement ring?
Of course, we think you should buy your engagement ring here, at Gale Diamonds! You get to meet in person to discuss your options and make your decisions, and we have competitive pricing. What's not to like?
That said, we understand you have many other options, both online and in-store. We encourage our customers to look around and see what's out there. At the very least, your bound to get some ideas about what you like.
---
Need some inspiration? We have a range of pretty picture to peruse in our Engagement Ring Design Gallery, or you can see some more possiblities in our in-stock specials (that are all in-stock and ready to go!). Any of these diamonds can be modified to fit any size or shape center.

Of course, you can get inspiration from just about anywhere. Feel free to look elsewhere online or in-store and take note of what design elements and styles suit you.
With your dream and our expertise, we can create something wonderful together.
Here are a few ideas you can start with:
---
---
---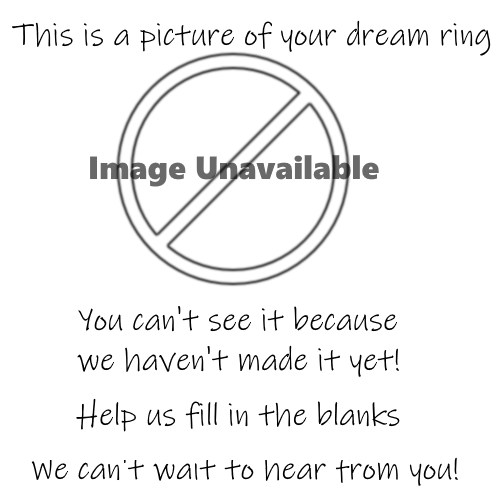 Contact us to set up an appointment and we can discuss your dream ring and make it a reality.
---
Still want some more inspiration?