We make the custom ring process as easy as 1-2-3
Selecting a diamond is a big part of the process, but don't worry, we'll help you make the right decision. You don't have to get overwhelmed with all the little details, that's our job.
We have a whole page dedicated to selecting a diamond if you'd like to read more about that, but here we are focused on custom designs.
It's important to pick the diamond out first because the the ring will be custom made based on the proportions of the center. The shape and size will affect the design, and before we get to that stage, it's good to know what we will be working with.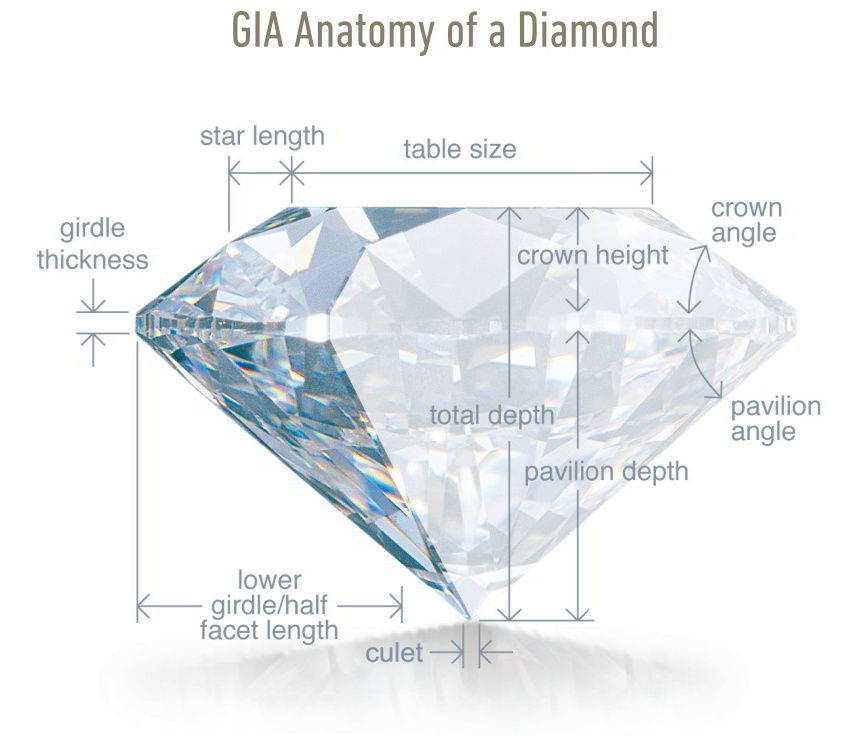 ---
This sounds intimidating, but we can usually nail down a preliminary design in a meeting or two. After we have a good idea of what you're looking for, we'll create a CAD, which is pictured to the right.
The CAD images allow you to get a good idea of what everything is going to look like before we cast and finish the ring. Any requested modifications can be made, and the best part is, you can preview your ring from the comfort of your home.
The design process usually takes a few days to a week, but there is no rush. We want to make sure we get every detail right so your ring comes out perfect.
Clients often ask about the bulky prongs they see in CAD images. The ring is cast exactly as shown, because the diamond setter needs metal to work with to securely set all of the stones. Have no fear, once the diamonds are set and the ring polished to perfection, everything will look neat and tidy.
The CAD is used to 3D print a wax of your design, which is used in casting. If you'd like, you can view the wax and even try it on before we move forward.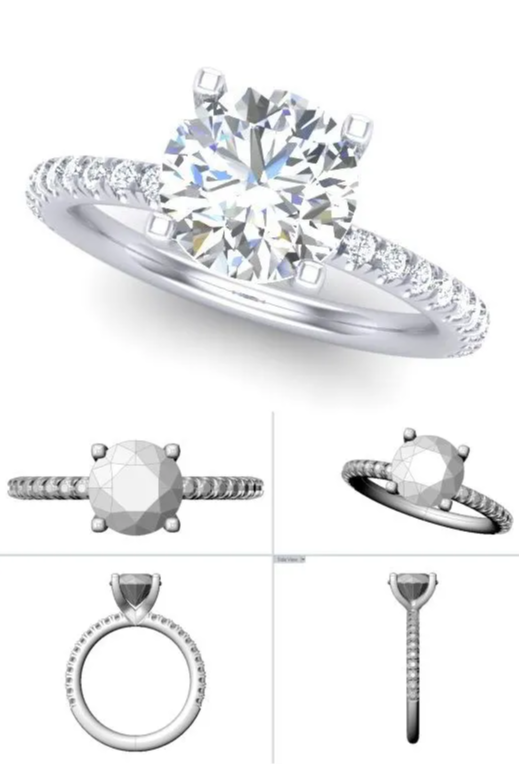 ---
The wax will be melted down to create a mold to cast the ring in your choice of metal. While this is happening, any additional diamonds required will be picked. The color will be matched to your center stone, and we always use high clarity VS quality stones.
Then, all of the diamonds will be set, and the ring will be polished to a mirror shine.
The last step we take is to have the ring independently appraised. Some jewelers appraise their own merchandise, but that doesn't sit right with us. The appraisal is included free of charge, and it will verify the ring and it's components and is necessary if you want to have it insured.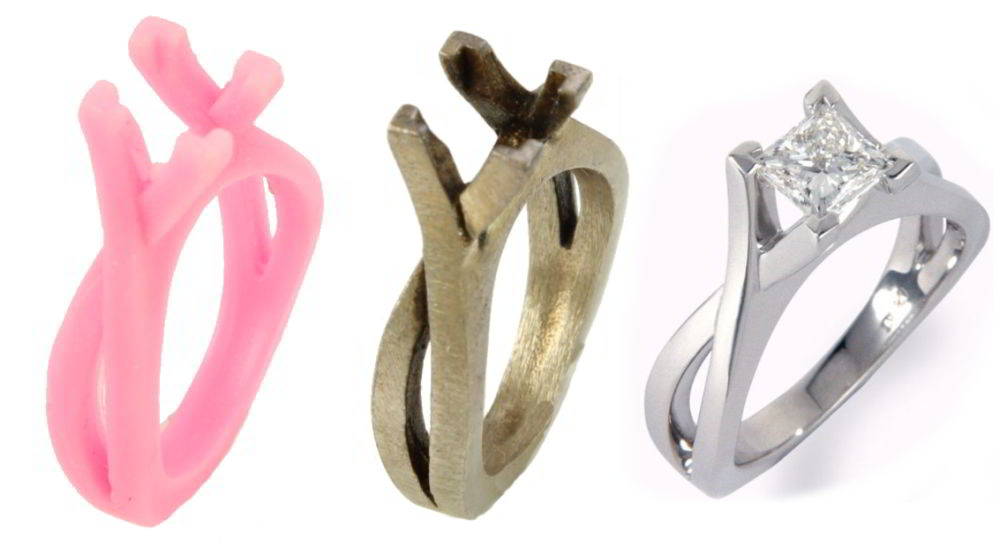 ---
---
Need some inspiration? We have a range of pretty picture to peruse in our Engagement Ring Design Gallery, or you can see some more possiblities in our in-stock specials (that are all in-stock and ready to go!). Any of these diamonds can be modified to fit any size or shape center.

Of course, you can get inspiration from just about anywhere. Feel free to look elsewhere online or in-store and take note of what design elements and styles suit you.
With your dream and our expertise, we can create something wonderful together.
Here are a few ideas you can start with:
---
---
---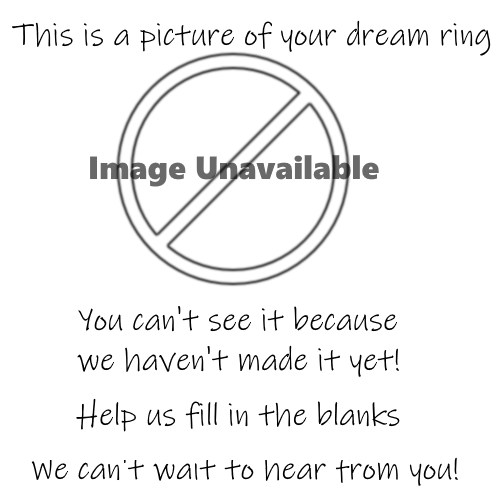 Contact us to set up an appointment and we can discuss your dream ring and make it a reality.
---
Still want some more inspiration?